This is an easy one to do, and makes for a great idea for a summer afternoon.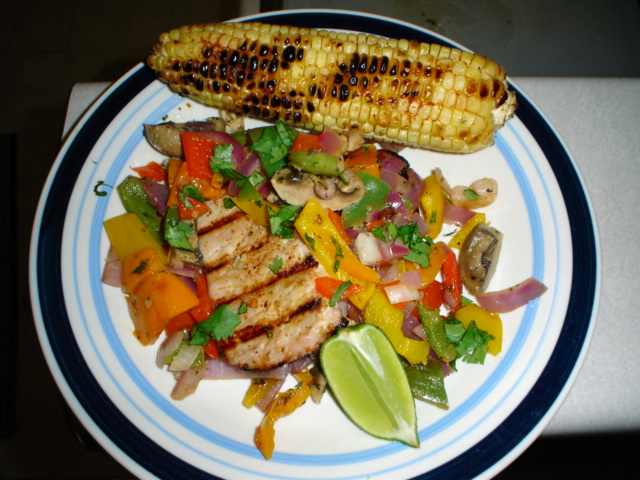 Ingredients:
Red, Yellow, Green bell peppers
Poblano peppers
Mushrooms
Red onions
Thick centercut pork chops
Medium shrimp
Ears of corn with husks
Ceyenne pepper
Salt
Pepper
Chili powder
Paprika
Good olive oil
Cilantro
Orange
Lemon
Lime
butter
Slice the vegetables as shown in the picture below. Place vegetables in large ziplock bag with shrimp and add salt, pepper, and olive oil. Shake the bag to ensure the vegetables are well coated. Place bag in fridge for 2 hours.
Combine the spices and apply to both sides of the chops. Place the chops in a large ziplock bag, then sqeeze the juices of the fruits into the bag. Place bag in fridge for 2 hours.
One hour prior to cooking, remove the silk from inside the husk without removing the husk, then soak the ears of corn in water for 15 minutes and preheat your oven to 400 degrees. When the corn is done soaking, place in the oven for 30 minutes, or until soft. Take out of the oven and place on the grill. All you want at this point are some good char marks like in the picture. Take off the grill now and apply butter, ceyyenne pepper, and salt.
Heat your grill to about 375-400 degrees and assemble your food on the grill as shown below. Be sure the side with the pork chops is well oiled to prevent sticking. Allow the chops to sear for 2-3 minutes, then flip. Cook until you get an internal temp of 150, or until the juices run clear.
Wait to apply the shrimp until the vegetables begin to soften. After you apply the shrimp, cook until the shrimp are pink on one side, then flip and do the same. Once the shrimp are pink, you can remove the vegetables and shrimp from the grill. Now chop the vegetables to your desired size (not the shrimp), then place on the plate and sprinkle chopped cilantro.